Coloring page of fish is a perfect subject for coloring pages. Fish are some of the most colorful creatures in the ocean and you can explore your creativity with numerous ways to color the pages. Whether you're a kid or an adult, coloring fish can be a relaxing and enjoyable activity.
Fish come in all shapes and sizes, so there are many different types of coloring pages of fish to choose from. For kids, there are simple and cartoonish fish designs that are easy to color. For adults, there are more realistic or abtracts shapes of fish to color.
Doing coloring page of fish can be educational as well. For example, you can learn about different species of fish and their colors, patterns, and habitats. Fish coloring pages can also be used to teach kids about the importance of preserving the ocean.
There are many benefits of coloring pages. It can help to reduce stress and anxiety, improve focus and concentration, and even boost creativity. It's a great way to unwind and relax after a long day, or to pass the time on a rainy afternoon.
If you're looking for some fun with coloring page of fish, here you can find a selection of original coloring page printable, you can download and print inmediatly at home. Then, our coloring pages of fish are in letter size (8.5 x 11 inches) and PDF format. To open the files you will need a program, so we suggest using Adobe Reader for free.
So next time you're looking for a fun and relaxing activity, consider to color pages of fish. It's a great way to take a break and to tap into your inner artist. Happy coloring!
Download Coloring Page of Fish
Important
This free resource from Mercy Digital Designs is only for personal use. So, please do not share, resell or redistribute the files or use the item(s) commercially under any circumstances or share them publicly. Thank you.
Multiple fish
Cute coloring page of fish
Many cute Fish coloring page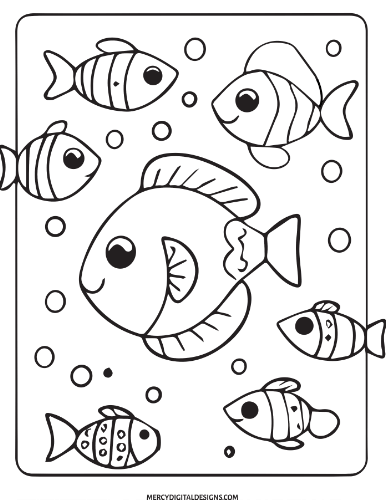 Bubbly fish coloring page
Simple fish
Big fish and small fish
Rounded fish with small ones
Fish with Big smile
fish with seaweed
Coloring Page of Fish with background
Realistic Fish Coloring Page
Two Fish
Rare fish
On the oter hand, to download more exclusive freebies like the free printable bookmarks to color or black and white planners you just have to join our mailing list. You will get access to the Subscriber Library where you will find this and more freebies.
GET EXCLUSIVE OFFERS AND FREEBIES BECOMING A SUSBCRIBER!
Subscribers get access to exclusive sales and premium digital resources for free from our Subscriber Library.
Sign up to our newsletter to get instant access to the Subscriber library and get special offers.
You will be directed to the form to add your e-mail.
Finally, I hope you enjoyed our coloring pages of fish and have fun with it.